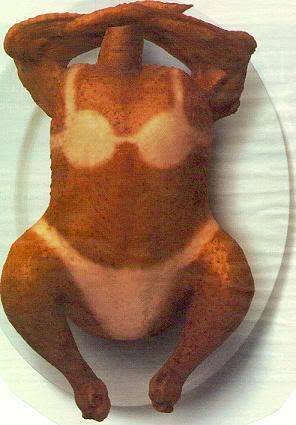 Hey you turkeys! Still a week to go before Thanksgiving, but there's plenty to feast your ears and feet on this weekend in NYC.
Especially,
TONIGHT (FRIDAY):
Kick off the weekend with longtime scenemaker Chandler and partner in crime Vignault at Lakeside Lounge during happy hour (6:30 to 8:00 or so). It's free and full or great tunes.
Sticking with Manhattan, you could head to the Cake Shop afterwards for Imaginary Icons and Manikin. II's first show in a while. $8
Or you could head over to Otto's for another installment of ABC Rebel Night, a boppin' set of rockabilly and early r'n'b to dance to. Free.
You could head a bit uptown to Hell's Kitchen for the return of the Underthings with Born Loose at Bar Nine in Hell's Kitchen (9th ave). We think this is a free show too.
Over at Home Sweet Home on Chrystie St, we expect Jonathan Toubin to be rockin' his usual "Shakin' All Over Sideways Down" night. Free this week?
Back over in Brooklyn, there's still plenty to do…
At the "loft" at Public Assembly, it's the second edition of the new Subway Soul Club with DJs Phast Phreddie and Ty Jesso. $6 cover but it's got the exclusive club room vibe and is sure to be the real deal. Look for the door marked "70″ next to Music Hall of Williamsburg.
INSIDE Public Assembly (the main space), there's a rock'n'roll show of the most explosive kind: Boston's baroque roquers Upper Crust return and are more than ably supported by the excellent Othermen. $10 at the door.
Further down in Brooklyn you'll find the Reigning Sound, the Swingin' Neckbreakers, and the Jayvons at Southpaw for $12. You might try to cop tickets online as it could sell out at the door.
And over on 3rd ave, you'll find the Brought Low at Hank's Saloon doing the free show thing.
Let's not forget the Garden State– if you've over in Jersey, check out the Doughboys & the Grip Weeds at the Record Collector in Bordentown, NJ. Early show should be fun.
SATURDAY:

No Manhattan happenings as far as we know, here's some Brooklyn action for you:
Infamous dirty "proto-rapper" Blowfly is at Knitting Factory with Jonathan Toubin in between sets. $14
Later on, Toubin hikes over to Glasslands for his "Soul Clap" night with dance party contest and prize. $3 cover.
Nearby at the Hope Lounge, Capt Heartlock & Kitty Beat are once again doing their "Salvation" night with all kinds of great 60′s grooves. Free.
Continuing on, NYC's best punk bands, Liquor Store and Foster Care, play a free show at Bruar Falls with Manikin among others.
Eli "Paperboy" Reed & the True Loves rock the Brooklyn Bowl. $8.
Over at Union Pool, it's Alana Amram & the Rough Gems. $?
Way out on Broadway, it's a party called "Twist'n'Shout" at the Beauty Bar. The bands don't sound all that great although they seem themselves as "garage punk" bands. Still, Brenda Brand is guest-DJing it and they promise "bubblegum and girl groups" so it sounds like a decent night, especially for FREE.
Once again not forgetting the Garden State, Subway Surfers and Jukebox Zeros will be at the Lamp Post in Jersey City for a free show.
SUNDAY:
Narrowly missing former bandmate Greg Cartwright, Jack Oblivian will be at Southpaw with his Tennessee Tearjerkers. This is a rare appearance folks– Jack don't come around these parts too often; expect country rock of a sort that will impress. $10
As always, Dave the Spazz and/or Andy Maltz will be Djing the front room at Union Pool.
SHIMMY
Tags:
blowfly
,
foster care
,
jack oblivian
,
knitting factory
,
liquor store
,
manikins
,
reigning sound
,
ty jesso
,
underthings